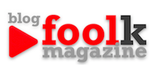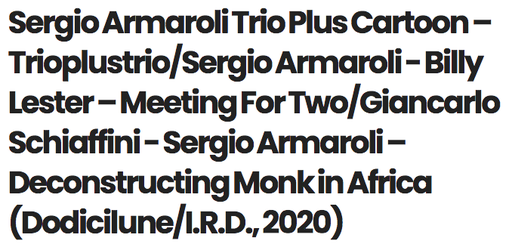 Vibrafonista, compositore e didatta, ma anche pittore e poeta, Sergio Armaroli è un artista totale, il cui eclettismo lo ha condotto a spaziare attraverso ambiti differenti ed, in particolare, a proiettare il linguaggio del jazz e dell'improvvisazione verso il futuro, esplorando nuovi sentieri nell'ambito della ricerca musicale e compositiva. A riguardo afferma: "Considero il jazz come attitudine propriamente sperimentale che ha assoluta necessità di essere raccontata". A caratterizzare la sua cifra stilistica è certamente la sua scrittura, vibrante di una consapevolezza nell'essere produttore "di-segni" ma anche inventore di "gesti poetici" tradotti in musica.
Formatosi presso l'Accademia di Belle Arti di Brera e il Conservatorio Giuseppe Verdi di Milano ma anche accanto a Joey Baron, Han Bennink, Trilok Gurtu e Dom Um Romao, Schiaffini vanta un articolato percorso artistico che, nell'ultimo decennio, si è intrecciato con quello della lungimirante etichetta salentina Dodicilune con la quale ha messo in fila dischi di grande spessore come "Tecrit" in collaborazione con Riccardo Sinigaglia nel 2014, "Vacancy in the Park" con Axis Quartet nel 2015, "Micro and More Exercises" con Giancarlo Schiaffini nel 2016, "From The Alvin Curran Fakebook - The Biella Sessions" con il quartetto guidato da Alvin Curran, "To play Standard(s) Amnesia" con il suo quintetto e Billy Lester nel 2017 e "Close (your) Eyes Open Your Mind" con Walter Prati e "Trigonos" con Andrea Centazzo e Giancarlo Schiaffini nel 2018. A distanza di due anni da quest'ultimo, Armaroli torna con un altro lavoro sorprendente "TrioPlusTrio", album nel quale ha raccolto sei composizioni originali in cui, per la prima volta, utilizza il vibrafono preparato, accompagnato da due formazioni in trio che si alternano al suo fianco e si confrontano. Il trio italiano nel quale il vibrafonista è accompagnato da Giancarlo Schiaffini al trombone e Walter Prati al violoncello, dà vita ad un imperdibile dialogo, tutto giocato sulle asimmetrie, con il trio Cartoon composto da Roger Turner (batteria e percussioni), Chris Biscoe (sassofono e clarinetto) e John Pope (contrabbasso), tre assi dell'improvvisazione musicale inglese. In questo senso, ascoltando il disco colpisce l'approccio musique concrète con cui Armaroli esplora le possibili vie di uscita dall'accordatura temperata e dalle sue timbriche pure per approdare a sonorità divergenti. 
A spiccare è, inoltre, il sinergico interplay tra i tre strumentisti italiani che diventa ancor più ricco ed articolato nel sestetto, facendo emergere tutto non solo il collettivo ma anche le singole voci strumentali come nel caso dei brillanti interventi di Schiaffini, delle esplosive incursioni del sax di Biscoe e delle tessiture melodiche dense di lirismo del vibrafono di Armaroli. Determinante appare anche il contributo del contrabbasso di Pope come del violoncello elettroacustico di Prati che si integrano alla perfezione con le costruzioni ritmiche di Turner. Ad aprire il disco sono i tre strumentisti inglesi i quali con la superba "TrioPlusTrio 1"ci introducono alla lunga sequenza di quattro brani in cui i sei musicisti si danno battaglia improvvisando negli studi "Il pollaio" di Ronco Biellese con la supervisione del sound engineer Piergiorgio Miotto. Insomma, un lavoro magmatico, impreziosito dal bellissimo booklet con le fotografie di Roberto Masotti dedicate agli oggetti di questa musica preparata: "oggetti d'affezione per una musica preparata e altra". A breve distanza, Armaroli ha dato alle stampe un altro lavoro intrigante "Meeting for two", nel quale il compositore e vibrafonista incontra il pianista statunitense Billy Lester, improvvisatore istintivo e in grado di esprimere un raro lirismo sia nelle composizioni originali, quanto nelle riletture degli standard. L'ascolto svela undici brani di cui nove originali che spaziano dal sound jazz classico dell'iniziale "Billie's bounce" dal repertorio di Charlie Parker, alle sperimentazioni delle brillanti ed originali composizioni di Lester come nel caso di "G minor jazz", "Out of Gs and As" e "Peachfuzz parade", nelle quali colpisce la ricercatezza delle soluzioni armoniche in cui ritroviamo stilemi che rimandano a Lennie Tristano e Thelonius Monk, per toccare l'imprevedibilità dell'improvvisazione di "Grassopher's holiday". Non manca un gustosa versione dai tratti intimi di "Darn that dream" e un brano come "Not easy (to love)", composto a quattro mani e in cui si sviluppa una dinamica incredibile tra le due voci strumentali: pianoforte e vibrafono che ora dialogano, ora si alternano nelle parti soliste. I vertici del disco vanno ritracciati in "Billy is with me" e nella title-track", entrambe firmate da Armaroli che, in questo album abbandona per un attimo l'avanguardia tornando in grande stile nei territori del jazz contemporaneo. 
Ad inizio 2021, Sergio Armaroli (balafon cromatico, water drum, calebasse, talking drum, mbira, shaker(s), bull-roarer, percussion) è tornato ad incrociare i suoi strumenti con il trombonista Giancarlo Schiaffini, riformando il duo per dare vita a "Deconstructing Monk in Africa" album che raccoglie la lunga suite di quasi un ora in cui Thelonius Monk e la tradizione musicale africana incontro all'avanguardia Europea. Se a prima vista potrebbe sembrare che un semplice omaggio a Thelonius Monk, l'ascolto rivela dieci blues che sono l'ispirazione per dare vita ad una ricerca sonora a tutto campo che dalle poliritmie africane si dipana attraverso i sentieri dell'elettronica. "La musica africana, oltre ai noti elementi ritmici, ha con il jazz altre caratteristiche comuni, come l'aspetto decisamente responsoriale e una certa ripetitività", sottolineano i due compositori e musicisti nelle note di copertina. "Di Monk abbiamo voluto scegliere i Blues, curiosamente tutti nella tonalità di Si bemolle, spesso formati di un nucleo tematico semplice, con ampi spazi di respiro tipici del carattere africano del Jazz", proseguono Schiaffini e Armaroli. "Una semplicità che a volte sconfina in un primigenio minimalismo che mai si riduce a una semplice ripetitività. Abbiamo scelto un organico strumentale falsamente etnico (balafon, mbira, talking drum e altro) in dialogo con il trombone, cercando un senso a questo divagare tra paesaggi sonori primari e motivi melodici segreti. Il lavoro improvvisativo si dipana quindi come una terza via fra i temi monkiani, quasi mai citati direttamente, e il flusso acusmatico preregistrato". Le libere improvvisazioni attraverso i temi di Monk, opportunamente decostruiti, ci regalano momenti di grande musica come nel caso di "Straight No Chaser" e "Blue Monk", "Misterioso" e "Something in Blue" che suggellano un disco di grande spessore da ascoltare con grande attenzione. 







Todd McComb's Jazz Thoughts
Sergio Armaroli (vibraphone) has been quite prolific over the past few years, especially on Leo Records (but elsewhere as well). And Leo Records isn't selling CDs directly to the US anymore, due to customs changes, so that's unfortunate: They do have their own download portal, but it's from another era of selling lossy formats (so I don't do that...), and some general "classical" distribution as well, so their downloads are at the major retailers (but lacking written materials, alas). Anyway, after I selected Qobuz to hear Armaroli's latest album from Leo, the quartet Windows & Mirrors | Milano Dialogues — recorded in studio in Milan this past April, on two consecutive dates — I also found that it's been released on Harri Sjöström's Bandcamp.... And besides Sjöström (on soprano & sopranino saxophones), Armaroli (b.1972) is joined by Giancarlo Schiaffini (trombone) & Veli Kujala (accordion): The latter is a new addition, often serving to beef up the harmonic contexts behind Armaroli, but eventually undertaking some solos & interacting more like a horn at times, while the underlying trio had been developing a collective style already. Indeed they'd released Duos & Trios on Leo in 2020, and e.g. a quartet album with Andrea Centazzo, Orbits (on the restarted Ictus) also in 2020.... (Armaroli's recent releases on Leo include albums with Roger Turner & Elliott Sharp as well, so very different approaches....) Windows & Mirrors | Milano Dialogues seems like the most sophisticated release from Armaroli yet, though, at least in terms of textural investigations. And the group interactions do appear to be subtly orchestrated on vibes by Armaroli (who prior to undertaking these improv projects was apparently an orchestral musician...), often "supported" by Kujala as noted, with the two (senior) horn players engaging in general dialog across the dreamy, developing landscape. (The two suites, presumably reflecting the two dates, are Windows & Mirrors respectively, with Milano Dialogues apparently indicating an overall title.... The second suite is longer, the two combining for over an hour of music.) The resulting landscape can also seem relatively flat, i.e. with an immediate air of dodecaphony beginning the album, amid a relatively cacophonous interaction that actually comes to open more to lyricism as it unfolds: There's indeed a sense of dialog, of horns as characters in a sort of drama.... The different tracks also conjure their own sense of world, i.e. in the Braxtonian sense (via Joe Morris) of "locale," the shimmering vibes-accordion combo evoking recent Braxton sound worlds. In this, perhaps the most comparable album for me was instead In Search of Surprise, where I'd already noted the similarities to Braxton, the vibraphone there suggesting a sort of "diamond curtain wall" between the highly detailed horn articulations on either "side." Of course, Braxton is driving his scenarios from a reed, with the "middle" part coming from AI, while Armaroli is animating from the middle, but likewise with especially precise horn players articulating personalities in what can become a rather open interaction format.... (With Schindler, also very prolific, rather than the linearity of character drama, the music intensifies geometrically, into resonant clashes & a sort of vertical spectral-architectural interrogation.... The first track is thus the most similar, including "open" in its title, with the vibes player more of an addition to the existing horn duo.) With Braxton, of course there's also the Ghost Trance Music factor, i.e. its temporal interrelations, and that seems to remain in the realm of traditional dodecaphony for Milano Dialogues (i.e. without much time-concept), such that the latter never feels transformative: There's a series of intriguing textural interactions, and then they just end. (In contrast, e.g. Braxton's ZIM, with its otherwise similar textural explorations, is all transformation.... In fact, Sjöström's Move ensemble, e.g. Move in Moers as reviewed here in April 2021, is all transitions too.... Sjöström seems to have brought Kujala to this interaction as well, so he's an important factor here, but apparently not in terms of temporal form.) The underlying reference for me is then actually Lennie Tristano, flowing limpid melody in straightforward time signatures... subtly swinging, almost romantic at times. (Of course Tristano was a significant influence on Braxton, so this all tracks.) So I enjoy the general sound of instruments like vibes, trombone, accordion & soprano sax coming together... as well as the general moodiness, but I don't feel transformed by the listening here. It's a sophisticated effort, though, and seems to be building, i.e. through interweaving lines & slow resonances, various call-response textures... opening at times to the point of becoming diffuse (perhaps conjuring an intricately delicate mood). And then it moves on to the next window or mirror — i.e. still as a series of studies.
5 December 2022
Although it seems as though I only just reviewed vibraphonist Sergio Armaroli's Windows & Mirrors | Milano Dialogues (last December...), it also seems that there's more to say: I recently cited his basic sound world again in a review of Harri Sjöström's Due Mutabili (in September), and then finally took note of the "About Cage" series he curates for Da Vinci Classics (consequently updating my Number Pieces discussion last week...). And then Armaroli & colleagues continued to release albums from the same Windows & Mirrors sessions from April 2022: First there was More Windows & Small Mirrors | Milano Dialogues, part two (released this past February), involving the same quartet with Giancarlo Schiaffini & Veli Kujala, but more often in reduced formations (i.e. almost as an appendix to the prior quartet-focused album...). Now there's the generically named More Duos And Trios, released last month also on Leo Records, and recently appearing on streaming outlets: The title obviously references one of the earlier Armaroli recordings for Leo, Duos & Trios (released in 2020, as noted in my December 2022 review...), and does involve again that prior trio (i.e. without Kujala on accordion). And although the title sounds almost like an afterthought, More Duos And Trios ends up being the tightest release yet from this project! Whereas the first Duos & Trios seemed to be largely about integrating Sjöström into Armaroli's musical world (i.e. alongside Schiaffini, who appears e.g. on the Cage series, as well as with Armaroli for some of the releases in another extensive series, that one "jazzier" on the Italian Dodicilune label...), Windows & Mirrors | Milano Dialogues had then involved integrating Kujala, and ends up involving some relatively empty landscapes, spacious & hovering at times, also exploratory.... (Schiaffini on trombone had appeared as well on the other Armaroli quartet album that I reviewed in the interim, I Dream I Was An Earopean, recorded later in April 2022 with vocalist Phil Minton....) But More Duos And Trios is a second outing for the core trio, and usually ends up in strongly three-way interactions, i.e. exploring its basic reed & brass & vibes setup via increasingly sophisticated ensemble articulations.... Indeed it comes to recall In Search of Surprise (reviewed here in November 2021) from Udo Schindler & Etienne Rolin on horns, there contextualized by "adding" vibes at times (pace their duo followup, Plastic Narratives as mentioned in another February review...), generally punchier & more angular as well — as one of many prescient textural studies from Schindler. More Duos And Trios also continues to imply a sense of being "studies" then, i.e. with no real theme otherwise, various restarts for the tracks, simply coming to an end in time... but there're plenty of other recent explorations of this general sound world, lending a sense of centrality to Armaroli's work: When discussing both Windows & Mirrors & In Search of Surprise I'd noted the textural-structural similarities to Anthony Braxton's DCWM, i.e. two "horns" with worlds split-articulated across shimmering electronics — now for others, substituting shimmering vibes (possibly along with accordion, subsequently embraced by Braxton as well for ZIM...), with the basic resulting textures being increasingly interrogated across various musical contexts. Indeed, not only has Evan Parker been exploring similar combos (including with Armaroli himself, as previously noted...), but e.g. Steve Lehman & Ivo Perelman just released large ensemble albums augmenting a similar basic trio with vibraphone (although with trumpet, i.e. brass in higher register), respectively Ex Machina (with "orchestra," including electronics...) & Seven Skies Orchestra (with string trio). Perelman enjoyed the combo so much that he subsequently recorded the focused duo Tuning Forks with Matt Moran (as released in September), seemingly turning more toward spectral approaches around ringing metal.... But one thing those efforts do have in common, including from Braxton (who offers some different configurations as well...), is that they're driven by a reed player (including sometimes Sjöström...). With Armaroli though, it's more as if the "computer" (or continuo...) background is leading, so there's a different sense of structure, of articulating extended (temporal) tapestries.... (And these are also very long albums, most well over an hour, meaning that there's no shortage of ideas either.) More Duos And Trios is also, perhaps, the final release for Leo Records, an institution in this space. (It comes alongside the appealing Density For Solo Vibraphone(s), much less discrete in its rhythmic-dynamic articulations, making a round number of 10 releases for Leo by Armaroli....) And I'd already mentioned in the first Armaroli review how changes to commercial regulations left Leo unable to ship product to the US, and I guess he doesn't want to shift to more of an online context now, although as noted, his recent albums do appear at least on Qobuz.... That's unfortunate, but new music does continue.... And indeed Armaroli becomes one of the most prolific builders of what seems to be an important (technical, acoustic) sound world for the 2020s — so when does this "study" work yield more of an artistic statement per se? Armaroli's solo work may already be there, but that's not really my focus....
13 November 2023